VINAMOTOR HAS DONATED 150 GIFTS FOR PEOPLE IN THE FREQUENT CHARITY
Following national tradition of humanity, from 27 to 28/10/2017, the delegation of Vietnam Automobile Industry Corporation and Trade Union of the Corporation had visited people who were damaged by floods in two communes Vay Nua and Tien Phong in Da Bac district, Hoa Binh province.
During the past floods, through the northern provinces such as Son La, Yen Bai, Lao Cai ... Hoa Binh Province was mostly affected. Accordingly, the province recorded 33 dead and missing, 8 injured, estimated damage is approximately 802 billion VND. In Da Bac, 32 houses were completely sunk, 85 houses were landslide; 540 hectares of hydrolysis products are wiped and many serious effects on the living of the resident.
Through practical action, positive support to share difficulties with people, the delegation of Vinamotor had presented 150 gifts to 150 households at Vầy Nưa and Tiền Phong communes. In addition, the Corporation also provided necessaries to the top 10 severely damaged households.
Mr. Bui Van Dung presents gifts to people in 2 communes
At the donation, Mr. Bui Van Dung, General Director of the Corporation had shared the difficulties and huge losses with the infortune, and hope that with aids from Vinamotor can partly helps people to recover and return to normal life.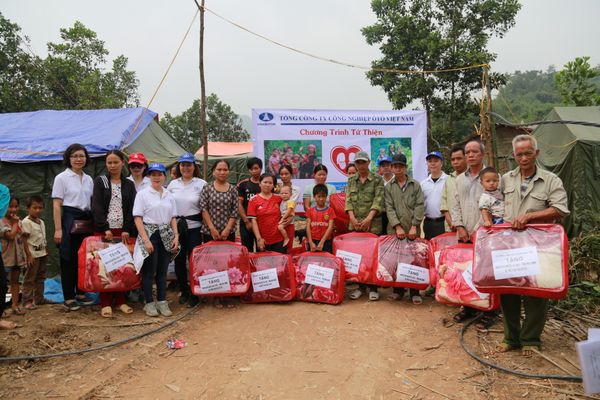 Pictures from Vinamotor trip.