VIETNAM AUTOMOBILE INDUSTRY CORPORATION - VINAMOTOR HOSTED LUCKY DRAW EVENT FOR CUSTOMER PROMOTION "MUA XE ĐONG VANG – TRUNG QUA LIEN TAY"
On Wednesday morning, 15/11/2017, at Thang Loi Hotel - Yen Phu - Tay Ho - Hanoi, Vietnam Automobile Industry Company (Vinamotor) hosted a lucky draw for the promotion "Mua xe Đồng Vàng – Trùng quà liền tay" for customers of Vinamotor trucks & buses in October, 2017. The total prize pool is up to 200 million VND with 5 special prizes; which is 01 Honda Airblade 125cc version 2017.
Attending the lucky draw ceremony, Vinamotor delegations have Mr. Le Van Tan - Chairman of the Board; Mr. Bui Van Dung - General Director of the Corporation, and especially the presence of more than 40 Dealers and customers.
Mr. Le Van Tan - Chairman of the Board of Directors speech at the ceremory.
At the lucky draw event, firstly, Mr. Le Van Tan expressed his appreciation to all customers who have used Vinamotor Dong Vang car in the past time and emphasized "This is the tremendous source for Vinamotor's confidence, as well as development of Vinamotor in the near future – Vinamotor hope to receive more support and love from our customers".
Customer draws the ballot.
At the lucky draw event, the Organizing Committee had invited representatives of Dealers and representatives of customers to draw ballot in public to find the lucky owner of the special prize. Accordingly, 05 owners of 05 Honda Airblade 125 cc version are listed as below:
1. Pham Huy Cuong - number of ballot: 306 - phone: 098xxxx758 - Customers of Dai Loc Dealer.
2. Dang Tan Phat - number of ballot: 245 - phone: 091xxxx711 - Customers of Hoa Phuc Dealer.
3. Phan Khanh Duy - number of ballot: 247 - phone: 094xxxx779 - Customers of Hoa Phuc Dealer.
4. Nguyen Quoc Dung - number of ballot 249 - phone: 099xxxx882 - Customers of Hoa Phuc Dealer.
5. Nguyen Quang Huy - number of ballot: 202 - phone number: 016xxxx566 - Customers of Thang Long Dealer.
For Customers who are not present at the ceremony to receive the prize, so Organizing Committee directlly make a call to congratulate and proceed to make a reward for the representative.
The ceremony was cozy and solemn which tie the bond between Vinamotor, Dealer and Customers. This is also a bridge for the Corporation leaders expressed gratitude as well as willingness to listen to any concern from Dealer and customer. All participants in this ceremony said that they are satisfied with the Vinamotor Promotion, although they were not lucky customers this time, they are confident that they will be next lucky customers in the future promotion.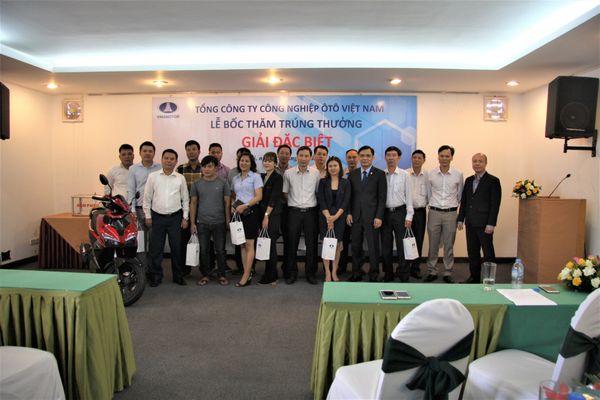 Representatives of Vinamotor take pictures with Dealers and customers